Are Lower Dentures Always A Problem?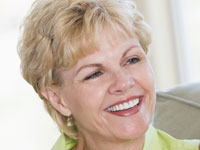 While dentures are marginally adequate substitutes for missing natural teeth, the lower denture can be troublesome for many individuals.
Inherent Lower Denture Problems
A lower denture interfaces with more movable mouth surfaces than an upper denture.
The lower denture has less stabilizing surface to rest upon. For example, there is no broad palatal surface (roof of the mouth) as in an upper denture.
Loss of jawbone over time brings a lower denture into closer contact with tissue extensions called frenum attachments, which create dislodging forces.
While these problems are inherent to lower dentures, every person is different and not affected in the same way. There are ways to approach these problems.
Some Considerations for Improving Lower Denture Stability
A thin band-like tissue extension (called a frenum) may attach between a jaw ridge (called an alveolar ridge) and the inside of the cheek. This strip of tissue may become active while eating or speaking and can lift a denture from its alveolar ridge. This frenum attachment may be surgically moved (this is called a frenectomy).
Alveolar ridge bone profile lessens or literally comes closer to the floor of the mouth as jawbone is lost over time. The bone loss is called resorption. This reduces the vestibule or space between the lip and alveolar ridge. Surgical extension of this vestibule (called vestibuloplasty) provides more alveolar ridge exposure for a denture to rest upon and reduces muscle pull due to a high frenum attachment.
As an alveolar ridge loses bone, it often may be built-up by surgically placing various substances beneath the gum tissue to increase both bulk and height of the ridge. This is called alveolar ridge augmentation.
As a person eats and speaks, the lips and cheeks exert forces towards the inside of the mouth while the tongue exerts an outward counter force. There is a space between the tongue and lips and cheeks, called the neutral zone, where there are balanced forces during function. These opposing forces can help maintain a denture in place, with surprising power, if the denture is fabricated so that its bulk and teeth rest within this space.
Inserting metal implants into the jawbone and fabricating a lower denture to receive and connect with these implants in various ways will help stabilize a lower denture, while still allowing for comfortable and easy removal of the prosthesis for cleaning.
Ensuring that upper and lower teeth contact optimally during function (called balanced occlusion) is a basic means of stabilizing a lower denture. If one tooth strikes on one side only, the denture will rock. Even contact or biting is a necessity. Fabrication of a denture that completely avoids contact with all potentially dislodging structures and has a metal base for strength and some weight often will facilitate stability.
What's the Best Approach?
Frequently, several approaches are combined, and not all may be suitable for a particular patient. After a thorough examination, a licensed dentist can best advise an individual as to the best means of helping stabilize a lower denture in their unique situation.
by Joseph J. Massad, D.D.S.
Dental Health and Caring for Seniors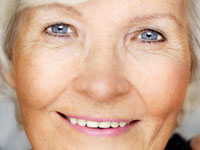 Seniors are the fastest-growing age group in the U.S., in part because medical advances and preventive care are extending life and the quality of it. As the baby boomer generation ages, the senior population is swelling, along with their interest in maintaining healthy bodies and lifestyles. Good dental health is important to overall health and seniors must stay on top of their dental care. It is now possible to keep natural teeth and good dental hygiene plays a vital role.
Dental Decay and Gum Disease
Talk to your dentist about the proper care of your teeth and dental health. Brushing twice a day and flossing regularly are the most important steps you can take to keep your teeth and gums healthy. If age is causing your gums to recede, clean your teeth thoroughly, but be careful not to irritate or tear the gums. A receding gum line may also expose sensitive portions of teeth; careful brushing is important, as are toothpastes that offer sensitivity protection. If you have difficulty using a toothbrush or floss because arthritis or a stroke has impaired your agility, ask your dentist to recommend commercial products that will make the tasks easier. Bleeding or sensitive gums, constant bad breath, receding gums, and loose teeth are all symptoms of gum disease, which can hasten tooth loss. If you spot these symptoms, talk with your dentist about them before they cause pain and deterioration.
Watch Your Mouth!
After a lifetime of chewing and biting, many seniors have dentures, bridges, crowns, and, of course, their fair share of fillings. Over time, even the best dental hardware can wear out. If you feel changes in your mouth, particularly when you are eating, brushing, or flossing, bring them to your dentist's attention. You may take medications or have a medical condition that results in dry mouth. Saliva production is important to good dental health: it keeps the mouth moist, washes away food particles, and protects against decay from plaque. Enlist the help of your dentist, and ask about artificial saliva products.
Maintaining Your Investment In Dentistry
Don't stop caring for your teeth and mouth at this stage of the game! Keeping your teeth healthy means greater comfort and enjoyment as you eat, laugh, and speak. Good preventive care will give you something to really smile about and help to maintain your dental health!