Are Lower Dentures Always A Problem?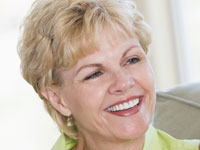 While dentures are marginally adequate substitutes for missing natural teeth, the lower denture can be troublesome for many individuals.
Inherent Lower Denture Problems
A lower denture interfaces with more movable mouth surfaces than an upper denture.
The lower denture has less stabilizing surface to rest upon. For example, there is no broad palatal surface (roof of the mouth) as in an upper denture.
Loss of jawbone over time brings a lower denture into closer contact with tissue extensions called frenum attachments, which create dislodging forces.
While these problems are inherent to lower dentures, every person is different and not affected in the same way. There are ways to approach these problems.
Some Considerations for Improving Lower Denture Stability
A thin band-like tissue extension (called a frenum) may attach between a jaw ridge (called an alveolar ridge) and the inside of the cheek. This strip of tissue may become active while eating or speaking and can lift a denture from its alveolar ridge. This frenum attachment may be surgically moved (this is called a frenectomy).
Alveolar ridge bone profile lessens or literally comes closer to the floor of the mouth as jawbone is lost over time. The bone loss is called resorption. This reduces the vestibule or space between the lip and alveolar ridge. Surgical extension of this vestibule (called vestibuloplasty) provides more alveolar ridge exposure for a denture to rest upon and reduces muscle pull due to a high frenum attachment.
As an alveolar ridge loses bone, it often may be built-up by surgically placing various substances beneath the gum tissue to increase both bulk and height of the ridge. This is called alveolar ridge augmentation.
As a person eats and speaks, the lips and cheeks exert forces towards the inside of the mouth while the tongue exerts an outward counter force. There is a space between the tongue and lips and cheeks, called the neutral zone, where there are balanced forces during function. These opposing forces can help maintain a denture in place, with surprising power, if the denture is fabricated so that its bulk and teeth rest within this space.
Inserting metal implants into the jawbone and fabricating a lower denture to receive and connect with these implants in various ways will help stabilize a lower denture, while still allowing for comfortable and easy removal of the prosthesis for cleaning.
Ensuring that upper and lower teeth contact optimally during function (called balanced occlusion) is a basic means of stabilizing a lower denture. If one tooth strikes on one side only, the denture will rock. Even contact or biting is a necessity. Fabrication of a denture that completely avoids contact with all potentially dislodging structures and has a metal base for strength and some weight often will facilitate stability.
What's the Best Approach?
Frequently, several approaches are combined, and not all may be suitable for a particular patient. After a thorough examination, a licensed dentist can best advise an individual as to the best means of helping stabilize a lower denture in their unique situation.
by Joseph J. Massad, D.D.S.
Metal Based Denture vs Plastic - Which is Best for You?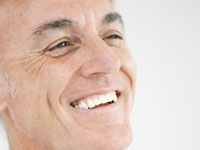 A metal-based denture is one in which a portion of the denture body is made of a substantial metal casting rather than all plastic (acrylic resin). This procedure is usually done on the lower denture.
There are two types of metal-based dentures.
Standard metal-based denture
The metal base portion of the denture is in direct contact with underlying supporting tissues.
The base is fabricated from a special medical grade alloy that is hypoallergenic and very biocompatible with tissues. Generally, tissues in contact with this type of material are very healthy in appearance.
Modified metal-based denture
The metal base portion of the denture is not in direct contact with underlying supporting tissues. A soft or hard plastic liner may be interposed between the metal and supporting tissues.
A soft liner is generally preferred to hard plastic since it is more comfortable to wear; however, the soft liner usually should be replaced on an annual basis.
The Rationale for a Metal-Based Denture
Facilitates the avoidance of disruptive forces
Sometimes it is necessary to construct a very narrow denture in order to avoid any structures that would loosen the prosthesis, such as muscles flexing, and so forth. In addition, necessary surgical procedures to reposition a muscle attachment (called a frenum) can sometimes be avoided with these narrow type dentures.
However, such narrow dentures are weak and tend to break quite easily when fabricated just from plastic. A metal base provides the needed strength to design a very narrow denture in order to follow the confines of a patient's lower resorbed alveolar ridge (the remaining bony ridge). In addition, the metal base provides long-term dimensional stability and strength that is not enjoyed with an all-plastic denture base.
Provides a more natural feeling
The added weight of the metal base provides a more natural perception for many patients. Many patients prefer the additional weight on the lower jaw.
A private study measured the actual weight of cadaver jaw ridges and teeth that would normally be lost after the extraction of teeth and associated natural shrinkage of the jawbones. It was found that the weight of these tissues closely approximated the weight of a metal base. Therefore, it is likely that the more natural feeling perceived by persons wearing metal-based dentures is probably real rather than imagined.
The additional weight of a metal base also contributes to lower denture stability by causing the denture to settle down onto a jaw ridge.
Advantages of Metal-Based Dentures
Very biocompatible and hypoallergenic with healthy-appearing supporting tissues
May include a soft liner
Can be relined easily
Provides added strength for easily broken narrow dentures
Facilitates fabrication of stable narrow-based dentures that are designed to avoid contact with disrupting muscle forces
Sometimes facilitates the avoidance of surgical procedures to reposition frenum
Patients perceive a more natural feeling from the added weight
Weight may contribute to additional denture stability
Dimensionally very stable when compared to all-plastic-based dentures during fabrication and over time
Disadvantages of Metal-Based Dentures
Generally difficult to reline standard metal-based dentures; modified metal-based dentures (described earlier above) are easier to reline
More costly to fabricate
by Joseph J. Massad, D.D.S.