Relieve Irritation With Soft Denture Liners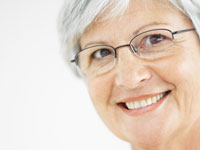 A soft denture liner is placed in the part of a denture base that contacts tissues. This provides comfort for those persons experiencing considerable pain while wearing a denture that has a hard plastic interface (the inside of the denture).
These individuals may have a low threshold for pain, and/or the gum tissue that overlays jawbone is usually thinner than normal and does not resist pressure well. When such tissue is compressed between hard jawbone and hard denture plastic, pain is easily elicited. Replacing one of these hard interfaces with a soft denture liner helps eliminate or reduce this painful tissue compression.
Some Characteristics of Soft Denture Liners
Denture liners are usually fabricated from special medical grade rubber or silicone-type compounds. The silicone materials are generally more compressible and, consequently, softer.
In order for these materials to function adequately, they must be reasonably thick. Therefore, the amount of plastic that needs to be removed from the inside of a denture to allow room for these liners may weaken some dentures. In those cases, it becomes necessary to incorporate a reinforcing metal framework within the body of certain dentures. There are several steps involved in installing a soft denture liner, such as impressions and various laboratory procedures.
Soft denture liners tend to continually harden, though a patient may not be aware of this happening because the process is gradual. However, they eventually will begin to have increasing problems until a new soft denture liner is placed.
Denture liners are porous in nature, which accounts for why they are soft. However, this porosity contributes to their deterioration and collection of microorganisms.
If a soft denture liner becomes contaminated with disease-causing microorganisms (a fungus for example), it may not be possible to decontaminate the denture without having to replace the denture liner.
Persons with dry mouth usually have difficulty wearing dentures due to pain and irritation caused by the hard denture surface rubbing against underlying tissues that are not lubricated with adequate saliva. While soft denture liners would appear to be ideal for such individuals, they are generally much more difficult to maintain. Because impaired saliva production allows a very significant collection of microorganisms to buildup in the mouth, this usually results in unacceptable contamination of porous soft denture liners unless meticulous oral hygiene is maintained.
While denture liners generally will last longer than a year, they should be replaced on an annual basis or sooner. The frequency of replacement depends on each situation and the patient's oral hygiene.
Advantages of Soft Denture Liners
A gentle and kinder denture interface for those individuals with sensitive underlying tissues.
The soft denture liner tends to compress and conform to a constantly changing jawbone surface. While this helps prevent pain from a moderately unbalanced bite resulting from jawbone shrinkage, it is not a long-term substitute for regular adjustments to balance a denture bite.
Disadvantages of Soft Denture Liners
Soft denture liners continually deteriorate and collect microorganisms easily; therefore, they generally are replaced on an annual basis.
Because soft denture liners help reduce pain from an uneven bite, patients may get a false sense of security, thinking their denture is adequately functioning while the bite continues to deteriorate. Routine dental check-ups are a necessity.
Generally, soft tissue liners are more expensive than a conventional hard denture liner.
by Joseph J. Massad, D.D.S.
Learn About Prosthodontics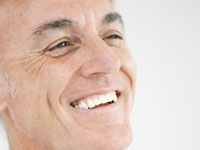 Dentures are replacement teeth that can be removed. Many people who are missing one tooth, several teeth or all their teeth benefit greatly from false teeth.
Prosthodontics improve your chewing and speech, and support your facial muscles. They make a big difference in your appearance and your smile, and can boost your self-confidence.
Made from acrylic resin, most dentures are very natural-looking and can be matched in color and appearance to your other teeth. Several visits to a denturist are usually required over the course of a month to take the impressions and make sure your false teeth fit right. These multiple appointments with a prosthodontist are necessary for receiving all the benefits you'll gain from them -- your increased ability to chew, a great-looking smile, and confidence when speaking.
Complete Dentures
A complete denture is for people who have no teeth in their lower jaw or upper jaw, or both jaws. In addition to the other suggestions for denture care listed below, complete dentures should be removed and cleaned two or three times daily to keep your gums healthy and to allow your tissues to relax.
Partial Dentures
Partial dentures are for people who have some natural teeth remaining, or who only need to replace a few teeth. The benefits are the same as for full denture wearers: your facial muscles will be supported, your smile improved and your ability to chew and speak will be enhanced.
Immediate Dentures
If a tooth is damaged and cannot be restored, you and your dentist may decide to create temporary dentures. That way, the dentist can pull your tooth and you can wear the temporary denture until a permanent solution is designed for you.
This temporary solution allows you to continue with your professional and social commitments without showing a gap in your smile. Sometimes an immediate denture is used to replace a number of hopeless teeth at one time. Generally, the prosthodontics will require relining, rebasing, or being completely remade three to six months later.
Getting Used to Your False Teeth
Even dentures that fit beautifully require an adjustment time. At first, you may experience minor speech changes and some eating difficulties. You may also notice an increased flow of saliva during this period.
While you're getting used to your replacement teeth, you may want to keep high-profile events to a minimum and give yourself time to adjust. You may also want to start with soft food that is easy to chew, while your comfort level increases.
Some prosthodontics wearers notice a slight change in their facial appearance. Knowing what to expect helps to anticipate normal adjustments for denture wearers and to effectively manage them.
While the dentist may advise you to wear your false teeth initially at night, normally you will remove your dentures while you sleep. Taking a break for eight hours gives your tongue and saliva a chance to do its natural job of cleaning and stimulating your gums.
Caring for Your Dentures
Handle with care.
Remove and brush daily.
Use a brush and cleansers designed for dentures.
Don't use abrasive cleaners or abrasive toothpastes, which will leave scratches.
Don't sterilize them in boiling water or in the dishwasher -- the hot water will warp them.
If you wear a partial denture, remove it before you brush your natural teeth and clean it carefully with a brush and cleanser.
When the false teeth are not in your mouth, soak them in a glass of water or cleanser. Dry dentures can become brittle and crack or break.
Keep your dentures in the same place and away from children and pets -- keep them safe and reduce the chances of losing or misplacing them.
Have your mouth and the dentures checked at least once yearly by your denturist.
by Brian J. Gray, D.D.S., M.A.G.D., F.I.C.O.