Denture Adhesives and Loose Dentures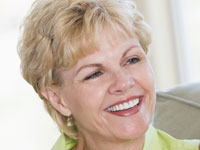 When the subject of dentures comes up, people often think of commercials for denture adhesives. These commercials imply that everyone uses adhesives to keep their dentures in and that denture wearers run the risk of having dentures fall out at embarrassing times!
When considering dentures, it is important to remember that they are custom-made to fit your mouth precisely and comfortably. In fact, dentures that fit properly do not require denture adhesives to stay in place. One exception to this rule may be when your dentures are new. Your dentist may suggest using an denture adhesive while you get used to the denture.
As time goes on and your mouth changes with age, you may find that your dentures must be replaced. Your dentist will provide advice on this, which is one reason to continue regular checkups after you begin wearing dentures.
A loose denture is a sign that it no longer fits your mouth or works properly. If your dentures become loose, you should see your dentist immediately. Continuing to wear a poorly-fitting denture will cause irritation to your gums and mouth, and can lead to infection over time. If you persist in wearing dentures that do not fit, your mouth may change shape and your ability to eat the foods you want and like will diminish.
A tip to keep in mind: you may feel your denture slip when you laugh, smile, or cough, particularly when your dentures are new. This slippage is caused by air suddenly getting under your denture base and moving it. The longer you wear your denture and become more comfortable with it, the better able you will be to control its movement in these situations.
While many of us remember grandparents or other older friends and neighbors whose dentures did indeed slip or require denture adhesives, today's dentures benefit from advances in dental and materials technology. Dentists work with respected laboratories where trained technicians make your personal dentures to the specifications that your dentist has provided. A good fit is crucial to enjoying life with your new dentures, and to letting others continue to enjoy your smile!
by Thomas Warner, D.D.S.
FAQ Dental Information - Denture and False Teeth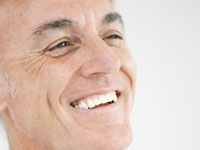 Q. How do you clean your dentures?
A. When cleaning your dentures, you should first rinse away loose food particles thoroughly. Then moisten your toothbrush and apply denture cleanser. Brush every surface, scrubbing gently to avoid damage.
Q. How many times a day does the denture need to be cleaned?
A. The denture needs to be cleaned two to three times daily.
Q. What is good oral hygiene when you have full dentures?
A. In addition to taking care of your dentures, taking care of your mouth also is vital if you wear full dentures. This includes brushing your gums, tongue, and palate every morning with a soft-bristled brush before inserting your dentures. This stimulates your tissues and helps remove plaque.
Q. Do dentures need to be replaced?
A. Dentures will need to be relined, remade, or rebased due to normal wear over a period of time and normal shrinkage of your gums and bones.
Q. What should you do if your dentures crack or break?
A. Call your dentist immediately. Normally, dentures can be repaired quickly, often on the same day. Damaged dentures can cause additional oral health problems, so see your dentist right away. Never attempt to repair dentures yourself. They require professional repair and adjustment.
Q. Why can't you fix dentures that break with glue?
A. Glues often contain harmful chemicals and are not effective in the proper repair of dentures.
Q. What are partial dentures?
A. Partial dentures are dentures that replace only a few missing teeth.
Q. How do you wear a removable partial denture?
A. Removable partial dentures are attached to your natural teeth with metal clasps or devices called precision attachments.
Q. How long will it take to get used to wearing a partial denture?
A. Your partial denture may feel awkward or bulky for the first few weeks, but your mouth will eventually get used to it.
Q. How long should you wear a partial denture?
A. Initially, you may want to wear your partial denture all the time. Your dentist will give you specific instructions on how long it should be worn and when it should be removed. Generally, your mouth tissues need to rest so it is advisable that you take out your partial denture at least 15 minutes per day.
Q. Will the partial denture change the way you speak?
A. Your partial denture may help your speech. It can be difficult to speak clearly when you are missing teeth. However, it also will take time to get used to it.